14 Things to do in St Albans
There is no place like St Albans, it's packed full of places to explore, experience and enjoy! St Albans is well known for its historic buildings, Roman historic attractions and streets that have remained through centuries. Get your notepad and pen ready to note down the top 14 things to do when you are in the City.
1. Clock Tower
(image: Britain Express)
The Clock Tower is one of the main historic places all must visit in St Albans. It is the only surviving medieval town belfry in England. The Clock tower was built in 1405 by the people of St Albans during those times, and is a symbol of their resistance against the power of the abbot of St Albans. Today, the Clock Tower bell is over 600 years old, and provides a fantastic view across the city.
Location: High St, St Albans AL3 4EL
Visit website: https://www.stalbansmuseums.org.uk/visit/clock-tower
Opening times: Saturdays, Sundays and Bank Holidays (10.30am to 5pm), from Good Friday to the end of September.
Cost: Adults: £1, Children: free
Contact: Email: museum@stalbans.gov.uk or call: 01727 751 810
2. St Albans Cathedral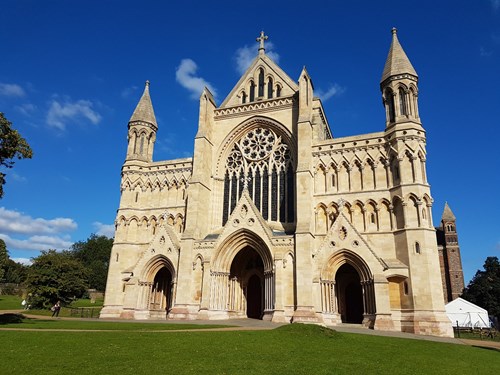 St Albans Cathedral goes un-noticeable from every angle in the city. The architecture is a mix of different periods, including Roman bricks salvaged from the ruins of Verulamium. St Albans Cathedral is a must place to visit, ideal for family and friends for things to do in St Albans, whatever the weather or whatever the occasion – a perfect excuse to admire the beautiful historic building.
Location: Sumpter Yard, St Albans, England
Website: https://www.stalbanscathedral.org/
Opening times: Monday-Sunday at 8:30am – 17:30pm
Contact: mail@stalbanscathedral.org or call 01727 890 210
3. St Albans Museum and Gallery 
(image: stalbansmuseums.org.uk)
St Albans Museum and gallery spaces showcase over 2000 years of priceless heritage and exhibits contemporary artworks, welcoming people to experience the national and world treasures. Expect to view historical and cutting-edge exhibitions, participate in programme of events with family and friends.
Location: Town Hall, St Peter's St, St Albans AL1 3DH
Website: https://www.stalbansmuseums.org.uk/visit/st-albans-museum-gallery
Opening times: Monday-Sunday, 10am-5pm.
Contact: museum@stalbans.gov.uk or call 01727 864 511
4. Sopwell Nunnery 
(image: Britain Express)
Sopwell Nunnery was founded in 1140 and the atmospheric ruins that are today visible that remains of a mansion that belonged to an adviser of Henry VIII. This is an ideal spot for summer days, perfect for picnics with family and friends and walks to view site features of two local Ver Valley walks.
Location:  Cottonmill Lane (managed by St Albans Museum, St Michael's, AL3 4SW), St Albans AL1 2BY
Visit website: https://www.stalbansmuseums.org.uk/visit/sopwell-ruins
Opening times and cost: Admission is free
Contact: Email museum@stalbans.gov.uk or call 01727 751 810
5. Farmers Market, St Albans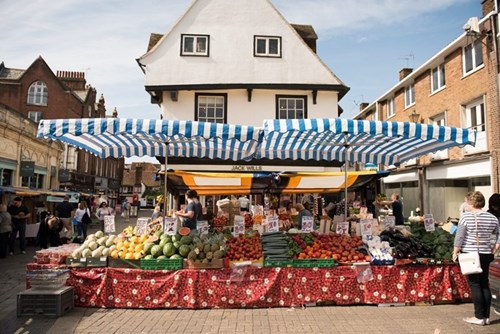 Help local farmers, growers and producers to sell their own produce directly to the public. Expect to find local mouth-watering seasonal fruit and vegetables, freshly grown herbs, top quality meat and dairy produce, freshly baked cakes and handcrafted goods!
Location: St Peter's St, St Albans AL1 3LH
Visit website: https://www.enjoystalbans.com/listing/farmers-market/
Opening times and cost: Weekly street market every Wednesday and Saturday
Contact: Email markets@stalbans.gov.uk or call 01727819227
6. Verulamium Park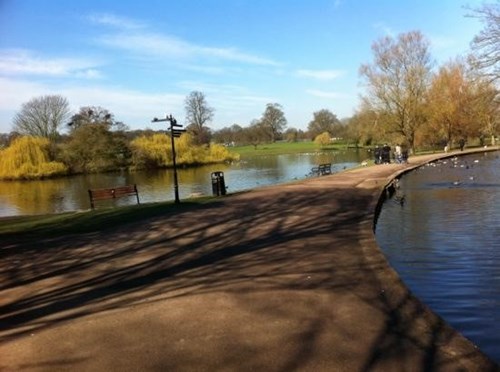 (image: TripAdvisor)
Beautiful parkland close to St Albans city centre for things to do in St Albans. A popular attraction throughout the year with wide range of facilities. The park name, Verulamium takes up after the Roman City. The City walls and the border line of London Gate can be viewed. The park have amenities such as adiZone (outdoor fitness area), beach courts, café, children facilities, children's play area, coach parking, disabled parking, disabled toilets, historic building, indoor swimming pool, model boating lake, on-site parking, ornamental lake, restaurant, sports/leisure facilities, and toddler splash park – there are many things to do in St Albans Verulamium park! The Verulamium Park also hosts different kinds of events throughout the year such as St Albans Half Marathon in June, Race for Life in July, and fire spectacular in November.
Location: Verulamium Park, St Peter's St, St Albans, UK
Visit website: https://www.stalbans.gov.uk/leisure-and-culture/parks-and-green-space/parks/Verulamium-Park/default.aspx
Contact: greenspaces@stalbans.gov.uk or call 01727 819366
7. The Alban Arena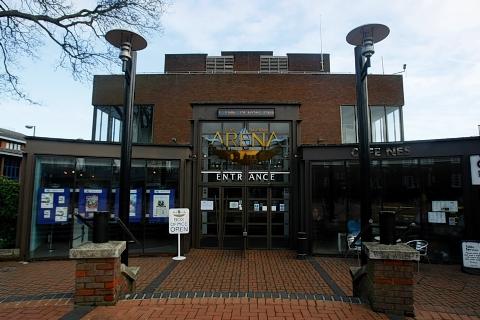 The Alban Arena is a well established entertainment venue with a busy programme of National Touring Shows, Rock and Pop Concerts, Comedy, Films, Exhibitions and the region's most popular Christmas Pantomime.
Location: Civic Centre, St Albans, AL1 3LD
Visit website: https://www.alban-arena.co.uk/
Contact: Box Office – 01727 844488
8. Lussmanss Restaurant, St Albans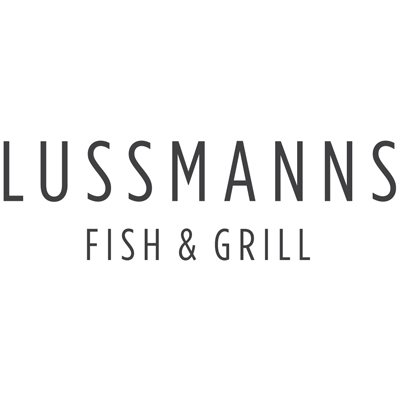 Just off the High Street, Lussmanns St Albans is situated next to the magnificent 11th-century Cathedral and Abbey Church and overlooks the Vintry Gardens. Our light and spacious modern restaurant occupies three floors. We also have a private dining room. We are within walking distance of Verulamium Park, with its Roman remains, and close to the bustling city centre and boutique shops.
Location: Waxhouse Gate, St Albans, AL3 4EW
Visit website: https://www.lussmanns.com/restaurants/st-albans/
Contact: 01727 851941
9. Westminster Lodge Leisure Centre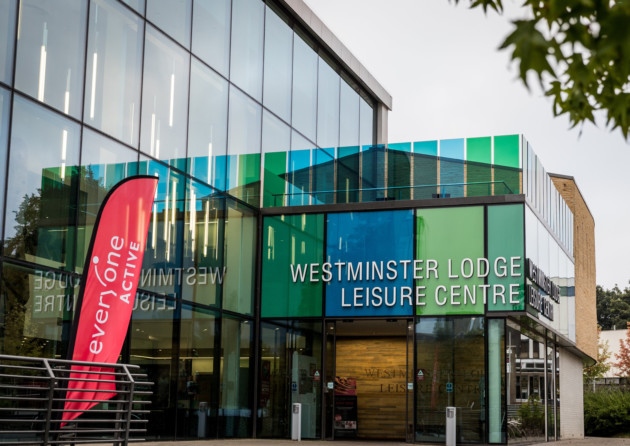 (Image: Kieran Green)
Westminster Lodge Leisure Centre, has all the facilities you'll ever need to keep enjoying an active lifestyle. The gym features state-of-the-art equipment, while the two pools play host to our award-winning swimming lessons, alongside many other activities to suit all swimmers. You can also enjoy a plethora of group fitness classes, designed to suit everyone, while climbers of all ages and abilities can enjoy our indoor climbing wall. We also boast a dedicated Hot Yoga studio, crèche facilities, and our luxurious Verulamium Spa has to be seen to be believed.
Location: Holywell Hill, St Albans, AL1 2DL
Contact: 01727 736080
10. Café Rouge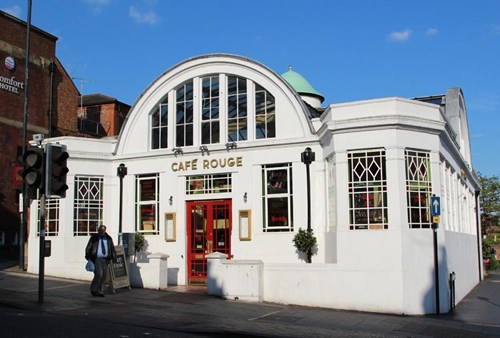 (image: BeautifulEnglandPhotos.co.uk)
Café Rouge is a very popular restaurants in town, a beautiful bistro that is perfectly situated in between visiting sights of St Albans has to offer. Café Rouge is a perfect stop for any time of the day, they will have any dish to suit your mood – from steak and fries to bouef bourguignon to vegan options. With a classic French menu with a contemporary twist for food options. Café Rouge makes a perfect spot to grab a coffee, a quick bite while on the go, or make a motive to enjoy a longer stay – they accommodate for all types of visits.
Location: 29 Holywell Hill, St Albans, South East, AL1 1HD
Opening times: Monday – Saturday (10am – 22:30pm) Sunday (9am – 23:00pm)
Contact: stalbans@caferouge.co.uk or call 01727832777
11. St Albans Tour Guides

Go on a guided walk with St Albans Tour Guides and find out some amazing stories about St Albans! Walks and the current calendar are available on their website. 
Contact: https://www.stalbanstourguides.co.uk/
12. The Odyssey Cinema, St Albans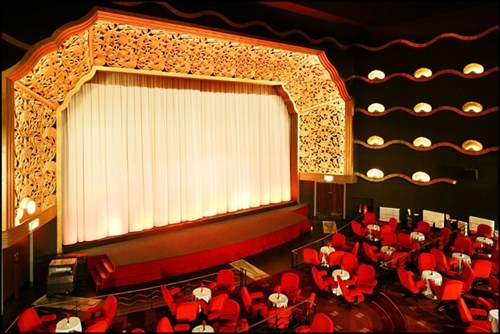 (image: studiobednarski.co.uk)
The Odyssey Cinema is a recently restored, independent Art Deco cinema in St Albans. The Odyssey Cinema brings to you a new outlook on how the experience for viewers can, and should be enjoyed. With the best technology in place, to the biggest screens, this is something to add on your things to do in St Albans when visiting. The large single screen has 426 seats in total, with 216 in the balcony and 210 in the downstairs seating area.
The history behind Odyssey Cinema began on 27 July 1980 at 166 London Road, St Albans – so It has been around for a very long time and is still going! This was St Albans very first cinema, and was designed by a local architect Percival Blow (who also designed Café Rouge) in the 1900s.
Location: 166 London Rd, St Albans AL1 1PQ
Visit website: https://odysseypictures.co.uk/
Contact: 01727 453088
13. The Pudding Stop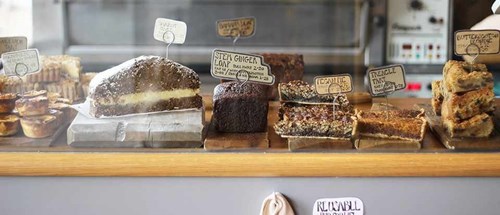 (image: olivemagazine.com)
The Pudding Stop in St Albans offers freshly made homemade puddings! Perfect for any excuse to pop in to The Pudding stop, whether it be after a dinner out, a snack, a takeaway home, or just a gift to surprise someone special – it is just tasty puds that are baked fresh every day. Their exciting menu changes according to the seasons.
Location: The Pudding Stop, 6 The Colonnade, Verulam Road, St Albans, Herts, AL3 4DD
Visit website: https://www.thepuddingstop.com/
Opening times: Monday – Wednesday (9am – 10pm) Thursday (9am-10.30pm) Friday – Saturday (9am-11pm) Sunday (10am-10pm)
Contact: 01727 830357
14. Willows Activity Farm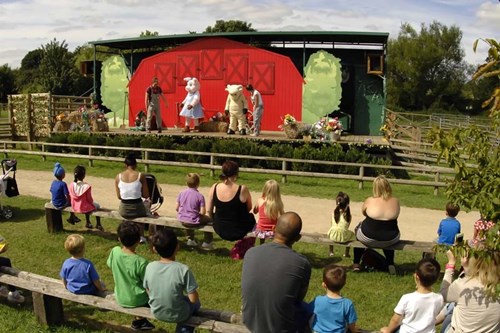 (image: WillowsActivityFarm.com)
This one is mainly for the kids … and the big kids! Willows Activity Farm is based in St Albans, and has over 300 farm animals and over 40 activities, shows and attractions going on here – perfect for young families. Willows Activity Farm has acres of outdoor and indoor fun, which includes daily shows and meet and greets with Peter Rabbit and Friends and many more. They also have café inside called 'Mrs Rabbit's Kitchen' with a delicious menu fill of breakfast, brunch, tea and many snacks to try out during your visit at the farm.
Location: Willows Activity Farm, Coursers Road, London Colney, St Albans, Hertfordshire, AL4 0PF
Visit website: https://www.willowsactivityfarm.com/
Opening times and entry: Monday – Sunday (10am – 5.30pm) – price varies, click here for more info: https://www.willowsactivityfarm.com/visitor-information/
Contact: info@willowsactivityfarm.com or call 0333 3312060